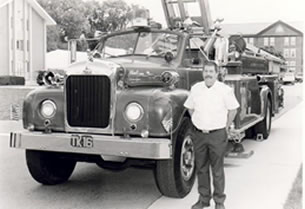 Robert Warren Compton, 52, of Woodsboro, passed away on Friday, November 21, 2008 at Frederick Memorial Hospital, following a courageous battle with cancer.
Born Nov. 24, 1955 in Washington DC, he was the son of Barbara Casady McKnight and step-father, Gerald, of Frederick and the late Robert E.L. Compton.
He was the husband of Donna Gladhill Compton, his wife of 23 years. Mr. Compton attended Parkdale High School, Greenbelt. He was employed as an auto technician for over 30 years.
He was an active member of Woodsboro Volunteer Fire/Rescue Company for more than 18 years, where he served in multiple administrative/active positions. He served as an EMT, Fire Fighter, and was currently the Deputy Chief. He was also a member of Grace Rocky Hill Lutheran Church, Woodsboro and the Woodsboro American Legion. He enjoyed working with electronics, working on cars, movies, reading, collecting guns and target shooting. He loved flying and was an avid Washington Redskins fan.
Rob was a loving husband, father and grandfather. Surviving, in addition to his wife and mother, are son and daughter-in-law, John Warren and Amanda Compton of Gettysburg, PA; daughters, Holly Nicole and Sarah Elizabeth Compton, both of Woodsboro; grandsons, Cohen Michael and Brensin Warren Compton; twin sisters, Teresa L. Inghram and husband Robert and Deborah A. Schroeder and husband Mark, all of Overland Park, KA; two nieces; two nephews; one great-niece; mother-in-law and father-in-law, Gloria and Donald Gladhill of Woodsboro; brother-in-law, Michael Gladhill and wife, Barbara of Louisa, VA; sister-in-law, Mary Balog and husband, James of Yorktown, VA; and grandmother-in-law, Elizabeth Weidner of Walkersville. He was predeceased by an infant sister, Elizabeth Compton
It is honorable to mention that Rob was one of the finest volunteers who responded to the 9/11 attacks on the Pentagon. The Woodsboro Volunteer Fire Company expresses their deepest condolences to all of the family and friends of Robert Compton. He was a dedicated volunteer with the Woodsboro Volunteer Fire/Rescue Company, and he will be dearly missed. God Bless.